Nemoto G.I.M Clinic
About
Our clinic is situated in the west part of Kanagawa prefecture.
We are trying our best to have patients be satisfied with our medical services:listen to the patient's complaints as much as possible, explain the needs and the results of the examinations if required and the treatment plan until patients understand enough.
Our doctor
Yoshikazu Nemoto MD, General internist
Graduated from Toyama medical & pharmaceutical national university in 1990
Fellow of the Japanese society of internal medicine
Board certified travel medicine doctor (Japanese society of travel medicine & Japanese society of travel and health)
Board certified acute care physician (Japanese association for acute medicine)
Fields of services
Consultations & treatments
Language:Japanese、English and French (conversation cotidienne)
Target ages:Adults and children above kindergarden
Diagnostics and laboratory works
Blood cell count:the result will be out in 5minutes.
Other blood analysis:the results will be out in the next morning or later depending on the tests.
Urine analysis:usually in 2minutes.
ECG, X-rays, Abdominal echogram:results will be explained immediately
EGD(fibro-optic gastroscope):we use transnasal scope in order to reduce the disconfortness mainly the vomiting reactions. More than 90% of the patients who experienced this scope prefer transnasal scope than transoral one.
Vaccinations (in yen:All fees are to be changed without notice)
DPT
3,800
DT
4,200
Measles
4,900
Rubella
4,800
Mumps
4,800
MR
(measles & rubella combined)
8,400
Japanese encephalitis
5,420
Hepatitis A
6,600
Hepatitis B
5,000
Hib
(haemophilus infuruenzae b)
7,200
Pneumo-coccal 7 valent
8,800
Pneumococcal 23 valent
6,700
Human papilloma virus 4 valent
14,800
influenza

※

The age of 13 and over : 2,900
Under 13 years of age (2 times of vaccination are required:Japanese methode) : 1,500
※Three types of influenza vaccinations are mixed(H1N1, H3N2, Type B).
Reservation is required except influenza vaccination.
Office Hours
|   | Mon | Tue | Wed | Thu | Fri | Sat |
| --- | --- | --- | --- | --- | --- | --- |
| 8:45~12:00 | ○ | ○ | ○ | ○ | ○ | ○ |
| 15:00~18:00 | ○ | ○ | - | ○ | ○ | - |
※Closed:Sun and Japanese holidays
An appointment is available from 14:15 on Mon, Tue, Thu. Please call us during our office hours.
Access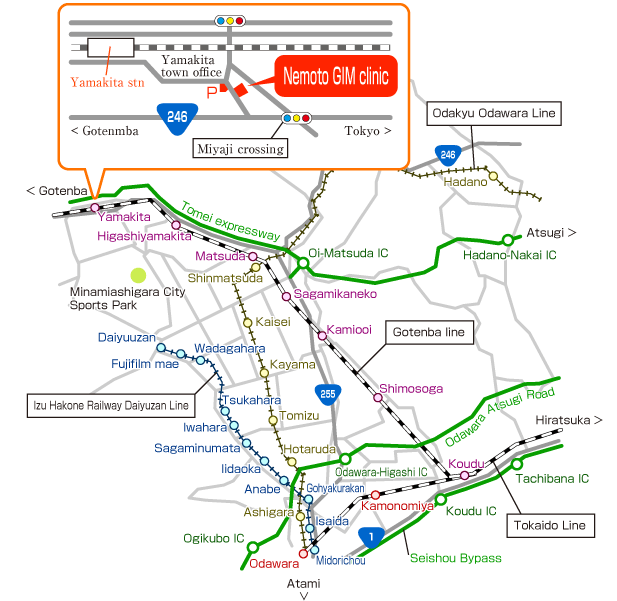 Payment policy
All fees are due at the time of service in Japanese yen. Credit cards and checks are not accepted.
Japanese national health insureance (Kokumin kenkou hoken & shakai hoken) and some of international and private insurances are accepted. Please ask your insurance company for details. We also ask the company before the services.
Contact
Address
711-32 Yamakita, Yamakita-machi, Ashigarakamigun, Kanagawa
Tel
0465-75-0095
FAX
0465-75-0366
E-mail
nemotos@olive.ocn.ne.jp